Create an energy efficient home.
When you want to reduce your home's electricity consumption, you're in power! The biggest factor in high bills is how you use energy, and Farmers EC is here to help you take control. We'll show you how to understand the factors that affect electricity use, investigate your situation to find out what might be causing your high bill, resolve the problems, and then how to monitor and manage your use to keep control of your bills in the future.
Request A Home Energy Efficiency Guide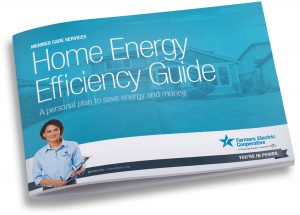 Download your FREE Home Energy Efficiency Guide here.
Fill out the form below to receive a link for your PDF version of the guide. Printed copies will be available soon.
[caldera_form id="CF5e7a4a0e71436″]
Request A Printed Copy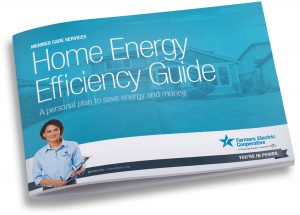 Request your FREE Home Energy Efficiency Guide here.
This valuable guide will lead you through four key steps to taking charge:
Step 1: Understanding Energy Use
Learn about a home's baseload usage, as well as the Top 3 Troublemakers: Weather, Inefficiency, and Home Habits. While you cannot control the weather, you can improve home energy efficiency and your energy usage.
Step 2: Investigate Your Case
Take a cold, hard look at your individual case to pin down where your energy investment is going. We'll discuss how to do your own sleuthing.
Step 3: Resolve Your Issues
With a good understanding of how energy is being used and a well-informed plan to move forward, almost anyone can make immediate changes to help reduce high bills and bigger moves to keep energy costs under control in the long run. This section covers simple tactics to improve habits, as well as co-op assistance like rebates on efficient appliances.
Step 4: Monitor & Manage
Once you have the tools, tactics and tips you need to start lowering your bill, you can use SmartHub to track your energy use, manage your account, and keep it all under control.