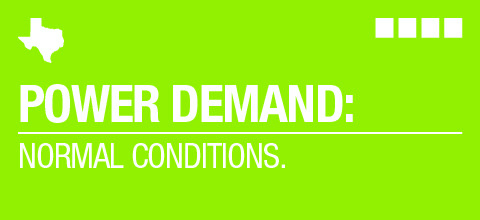 Alerts
Here you will find information on outages caused by inclement weather and other weather-related disruptions. 
No Results Found
The page you requested could not be found. Try refining your search, or use the navigation above to locate the post.
ERCOT Grid and Market Conditions
The ERCOT website now features graphics that display a snapshot of current conditions in the ERCOT system. Click the link below to visit their site and view current conditions.
What should I do if I lose power?
If you lose power, here are a few steps you can take to stay warm:
Close any blinds/curtains or put blankets or towels up to cover windows and provide insulation.
Close off rooms to avoid losing heat.
Stuff towels in cracks under doors, esp. exterior ones.
Wear layers of loose fitting, warm clothing, especially warm socks and gloves if you have them.
Eat and drink food to provide energy to warm the body but avoid alcohol or caffeine.
If you have candles, lighting them can help act as a heat source, especially in an enclosed space. But do not rely on them, and remember to practice good fire safety.
Caution concerning other power sources:
Under no circumstances should you bring a generator inside. They should remain 30 feet away from your home.
Don't use a stove or oven for heat, this can lead to carbon monoxide poisoning.
How can I conserve power?
Experts explained that even taking a few small steps to reduce power consumption in your home can help our communities:
Turn down your thermostat to 68 degrees, at the highest.
Keep lights off when not in a room.
Unplug appliances not in use.
Avoid using large appliances like washing machines, esp. during peak times.
Close off heat escape routes like drafty doors or fireplace dampers (when not in use).
Close blinds and shades at night to keep out cold air. Open them during the day to allow sunshine in.
When should I contact Farmers EC?
Members without power for longer than 45 minutes should report outages by using REPORT AN OUTAGE or by texting OUT to 85700.  If you are not enrolled for text alerts, text FEC to 85700 to start using this convenient service. Members may also call 903-455-1715 or use SmartHub.
Remember to stay away from downed power lines. Please report these to Farmers EC at 903-455-1715 or to your local emergency officials. Crews are staged across our service area to respond to any problems.
For all other issues, please contact our Member Care team at 903-455-1715 or use the Contact Us feature on SmartHub. 
Resources
Extreme weather home energy use.

Farmers EC is committed to help our members use less energy.
Download our EXTREME WEATHER HOME ENERGY USE PDF for tips on how to manage and reduce energy usage before major events take place.
News
This section serves to keep our members up-to-date on important details regarding their power service and cooperative.
No Results Found
The page you requested could not be found. Try refining your search, or use the navigation above to locate the post.